Music Ministry
God-honoring worship is something we strive for. Many of our church members are involved in our music ministry. Some play their instruments, some are vocalists, and others are involved in the choir.  These volunteers play an important part in the ministry of First Baptist Church by using their talents and gifts to glorify God.  If you're interested in becoming a part of our music ministry, please contact Vic Watson, Minister of Music.
Media & Technology
Using media to spread the gospel is a privilege for First Baptist Church. In an age of widespread technology, we have a stewardship to use these tools as best as possible for kingdom purposes. All of our weekly sermons will be uploaded to our website in  audio formats. We also maintain an active Facebook  feed for additional church communication.
Prayer Warriors (Prayer Room Ministry)
Prayer cannot be overestimated. Prayer moves the hand of God. First Baptist Church is a body of believers dependent upon prayer, and committed to God's sovereignty.  Throughout the week, volunteers to our Prayer Warriors team pray for their pastor, church members, any special requests, and missionary prayer needs. Each Wednesday night, the church comes together for a special time of prayer and Bible study.
Children's Church
In order to give our children the best Bible teaching possible, First Baptist holds a children's church service in conjunction with the main service. This special time gives our kids more opportunity for interaction and learning in a context and manner that is better suited to their age and learning styles. Our friendly children's church volunteers have an endless stream of creativity–ranging from  singing songs, playing games, and teaching object lessons.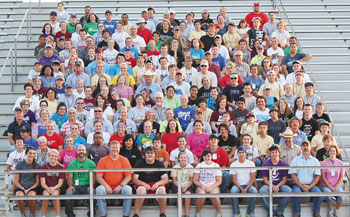 Community Rehab 2018: TBA!
During the month of June, FBC Comanche invites you to join us for an exciting week of hands-on ministry as local churches partner with other out-of-town churches to work on homes across Comanche County!
WHO CAN PARTICIPATE?
Community Rehab is for any adult or students who has completed 7th grade.  Younger children may participate but they must be with a parent at all times.
WHAT WILL WE DO?
Participants are divided into crews. These crews will work with a crew chief to repair a home in the community.  Jobs usually include painting, roofing, siding, and other outside work.  Rainbow Express also takes place at the jobsite for the children of the area. Each night crews gather at Comanche High School for a meal and a worship service.
HOW DO YOU PICK THE HOMES?
THE CR Steering committee is an independent ministry that selects homes based on an application turned in by homeowners.  For more information about having your home worked on, please see www.communityrehabproject.org


HOW MUCH DOES IT COST AND WHAT DOES THE FEE INCLUDE?
Adult Fee: $35  Includes all meals, t-shirt, and lodging  (if required)
Student Fee: $75  Includes all meals, t-shirt,  and lodging  (if required)
HOW DO I SIGN UP?
To sign up download a form below!  Please print the form as a double-sided form if possible.  Then, turn your money and completed form into the FBC Church office!
What is Grace Group?:
A Christ-centered support group for the families of those living  with  Mental Health Difficulties and Disorders
For more information on how to join this group please contact the church office.
Prayer Shawl Ministry
The purpose of the Prayer Shawl ministry is to provide a source of outreach and comfort to those around us who are going through difficult circumstances.  They can also be given in times of happiness such as weddings, births, baptisms and other occasions!  All prayer shawls and other knitted items are given to the recipients after being prayed over by the church.  This ministry is open to anyone who is interested in learning to knit or who is already skilled in knitting.  The sessions are held bi-monthly on the 1st and 3rd Tuesday of the month at 9:30am in the FBC parlor!
For more information please contact our church office.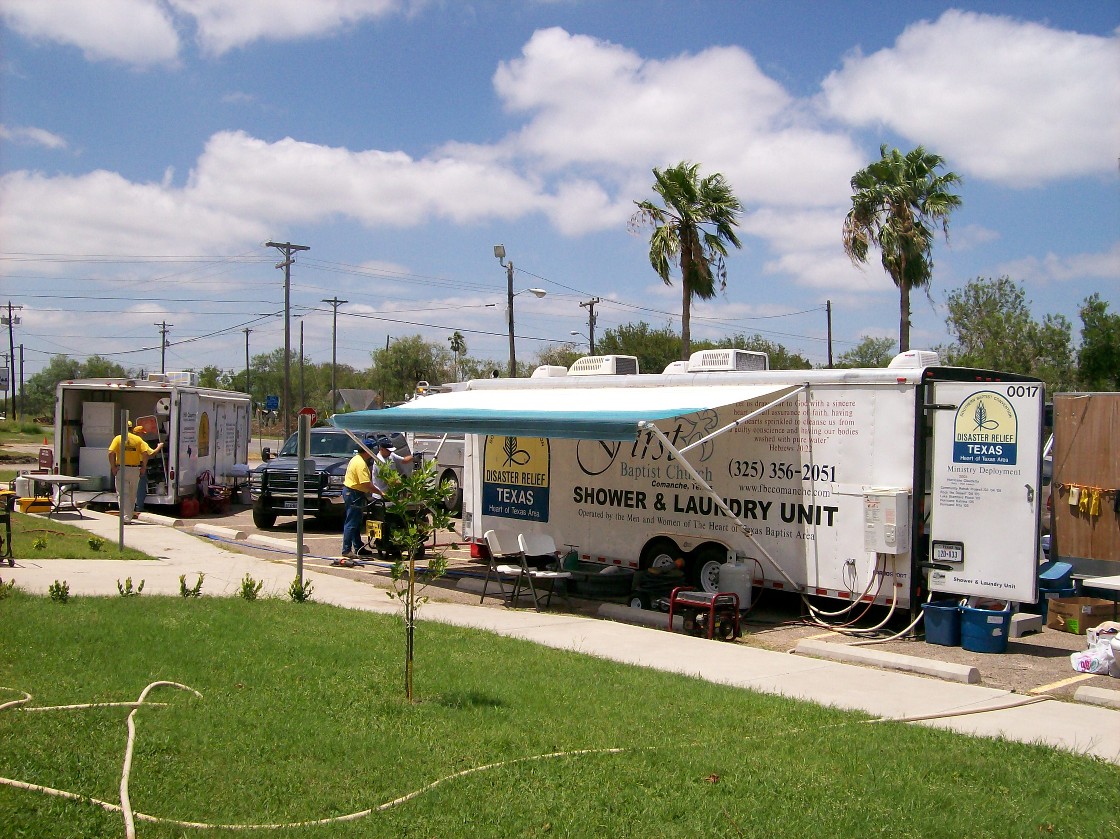 Shower Trailer Ministry
The shower trailer ministry is an outreach of the church dedicated to help the physical needs of those who have been touched by disasters.  The shower trailer ministry has partnered with the Texas Baptist Men to provide shower and laundry facilities to victims of hurricanes, tornadoes and fires.  It has also been used during events.  Workers are trained through the Texas Baptist Men training program to qualify to be onsite during a disaster.  For information contact Charles Carroll at 254-842-9613.
Deacon Team Ministries
For information about any of these teams or how to get involved with one, please contact the church office or one of the Deacons of FBC Comanche.
Hospital Visitation Team
This team visits and contacts members of our church family or their immediate family when they have been hospitalized. This ministry may include hospital visitation, emails, telephone contacts, or get well cards. For more information about this team contact Brett Keith.
New Member & Visitor Follow up Team
This team provides information to visitors and new members concerning church activities and opportunities. They also will help visitors and new members find a place in our fellowship and answer questions they may have. For more information about this team contact Eugene Bates.
Bereavement Team
This team leads the church to minister to those in the church who have experienced the death of an immediate family member by providing breakfast at the members home, going to visitation and if possible attending memorial service. For more information about this team contact Charles Williams.
Homebound Team
This team wants to show homebound members that they are an important part of our church and that we want to keep in touch with them. For more information about this team contact Bob Poyner, or the church office.
Crisis Team
This team ministers to people who have suffered a physical crisis such as the loss of home through fire, flood or other disaster. For more information about this team contact Charles Carroll.
Small Job & Repair Team
This team helps church members who are unable to perform small tasks or jobs in or around their homes. For more information about this team contact John Evridge.
Fellowship & Celebration Team
The Fellowship team of FBC promotes the use of our membership and facilities, to share the love of Jesus Christ through church socials and church events to enrich the lives of believers and potential believers in Jesus Christ. For more information about this team and how to get involved contact Mike Tindol.
We'd love to help
If we didn't answer all of your questions, feel free to drop us a line anytime.
Get In Touch